Ahead of the Brexit announcement on a potential deal, expected on 15 October, DAF Trucks has pledged that prices on all new UK orders for LF, CF and XF vehicles will remain secured for vehicles built by the end of February 2021.
Key points:
DAF Trucks pledges prices will be secured on new UK vehicle orders built before 1 March 2021
UK market leader moves to 'deliver a level of certainty during period of uncertainty'
Unique built-in-Britain position means no whole-vehicle import tariffs
Parts stock bolstered at DAF Distribution Centres and throughout DAF Dealer network
Despite the threat of import tariffs brought about by a potential no-deal Brexit, and the potential of a devalued pound against the euro, the UK market leader has moved to 'deliver a level of certainty during a period of uncertainty' as UK operators prepare for the inevitable challenges of the Brexit transition.
With DAF Trucks retaining a unique built-in-Britain proposition among OEMs competing in the heavy truck sector, the company believes operators will see the DAF brand as an attractive, dependable vehicle supplier over the coming months.
The vast majority of right-hand-drive DAF LF, CF and XF trucks are built at Leyland Trucks in Lancashire, which, in the event of a deal not being struck, will mean DAF buyers would not face whole-vehicle import tariffs.
With DAF Trucks' order books already filled for 2020 production, this pledge gives pricing certainty for operators needing new vehicles in the first part of 2021. Importantly they will also be able to configure the specification to their exacting needs, rather than risk a compromise if taking a vehicle from pre-built stock.
Furthermore, DAF Trucks is bolstering its already substantial inventory at its UK Parts Distribution Centre – also at Leyland Trucks – while also adding two weeks supplementary stock across the UK's 130-location DAF Dealer network to mitigate against any potential cross-border supply-chain delays. Similar action is being taken at DAF Trucks' parts centre in Eindhoven in anticipation of a no-deal outcome.
DAF Trucks believes these pre-emptive moves will inject some confidence into the market for new vehicle acquisitions, as Truck Sales Director, Russell Patmore, explains, "In addition to the fears brought about by the ongoing health emergency in the UK," he says, "operators also face Brexit anxieties. We hope our price assurance will deliver a level of certainty during a period of uncertainty.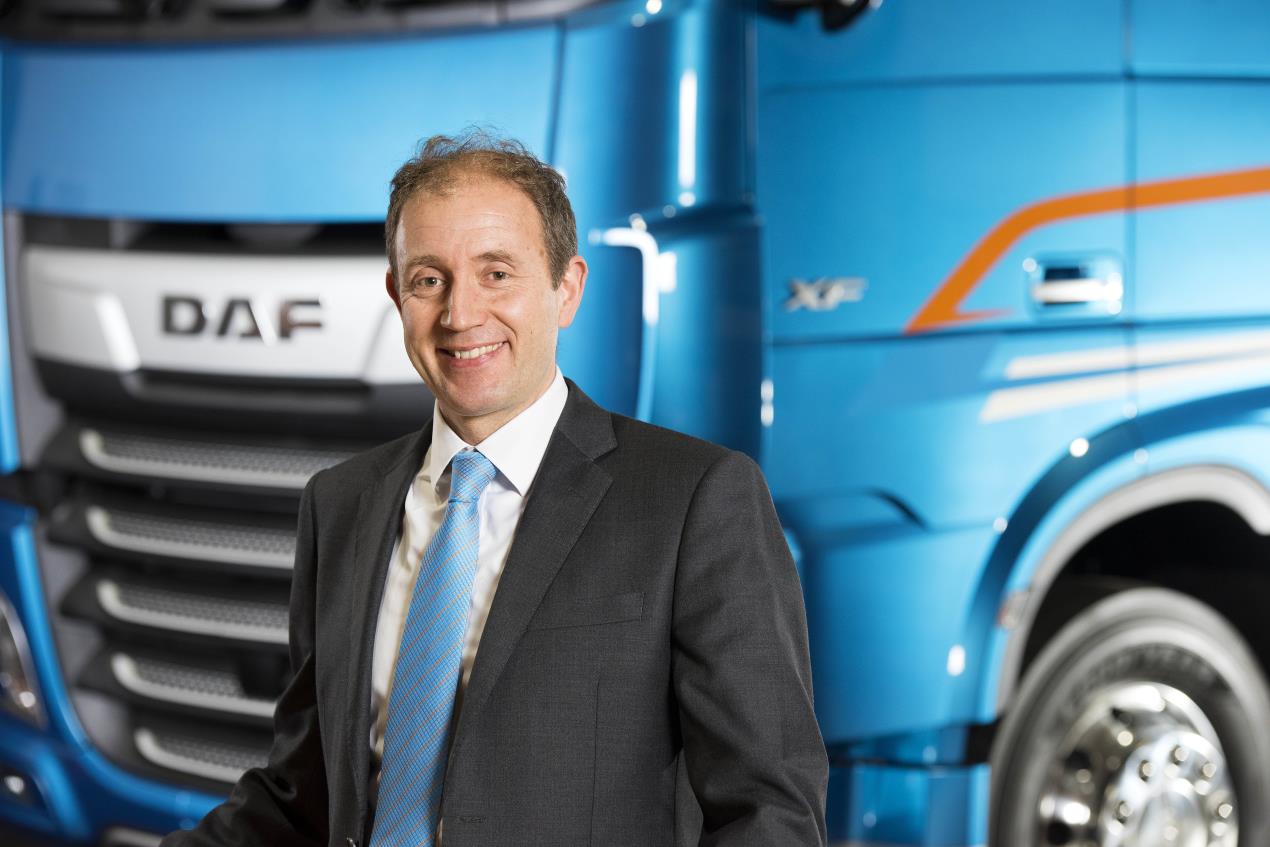 DAF Trucks UK Sales Director, Russell Patmore says: "The potential consequences of tariffs have contributed to a strong order intake and production slots for this year are now filled.
"As a UK manufacturer," says Patmore, "and if tariffs are imposed, they will be far less impactful than those experienced by our competitors on whole-vehicle imports.
"Despite the fact that truck prices are expected to increase in the UK in general, we're prepared to commit to firm competitive pricing. We want to support operators," he says, "and in so doing, inject some confidence into the market.
"Operators looking for a new vehicle should discuss their requirements with their DAF Dealer to take advantage of this pledge."
About DAF Trucks
DAF Trucks is a subsidiary of PACCAR Inc, one of the world's largest truck manufacturers. DAF Trucks is UK market leader for trucks above 6.0-tonnes GVW with a 30.5% market share in 2019. 
Headquartered in Haddenham, Buckinghamshire, the DAF Dealer network comprises 130 UK locations, including 57 ATF points and 13 sites offering Pet. Reg. / ADR service and maintenance
The LF, CF and XF models 'built in Britain' at Leyland Trucks in Lancashire, producing over 19,500 vehicles in 2019
PACCAR Financial, DAF Trucks' in-house financial services division, offers a full range of funding for operators
First Choice is DAF Trucks' quality-approved used truck programme. A full range of aftersales services include DAF MultiSupport R&M contracts. Parts are supplied through PACCAR Parts, DAF genuine parts and TRP all-makes